IMF halves German growth forecast for 2013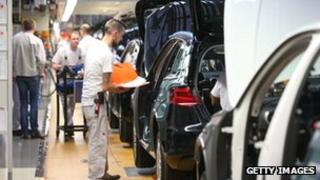 The International Monetary Fund (IMF) has halved its annual growth forecast for Germany this year, citing uncertainty over the eurozone crisis.
The IMF now estimates that the economy will grow 0.3% this year, down from its April estimate of 0.6%.
It also downgraded its growth forecast for 2014 from 1.5% to 1.3% in its regular assessment of the country.
It called on the government to "avoid over-performing [fiscal] consolidation" which would hurt the economy.
"Amid still-elevated euro area uncertainty, we now project GDP [gross domestic product] in Germany to expand at around 0.3% in 2013," the IMF said in its report.
But it warned: "Should the alleviation of uncertainty and an expected gradual recovery in the rest of the euro area fail to materialise, growth can be expected to remain below its potential for longer."
The German government predicts the economy will grow 0.5% this year.
The IMF said that while growth is expected to be weak, the economy is likely to recover in the second half of the year.
"A gradual pick-up in activity projected towards the end of the year is conditional on a further and tangible reduction in this uncertainty and an... expected gradual recovery in the rest of the eurozone," it said.
Subir Lall, the head of the IMF's German mission, told reporters that Germany's weak first-quarter economic growth was the main reason behind the downgrade.
Germany managed to eke out growth of just 0.1% at the start of the year, blaming an unusually prolonged winter. Robust private consumption had managed to offset a slide in exports and manufacturing activity.
Meanwhile the IMF warned the government against over-doing its austerity measures given the weak economic environment.
Among its proposals, the organisation said Germany should lower the tax burden for low-wage earners, increase availability of child care, ease immigration barriers to bring in skilled workers, and improve measures to persuade couples to have more children.
"Additional reforms to improve the productivity of the services sector remain important," it said.