Primark trials online sales with Asos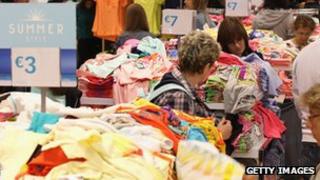 Primark has begun selling clothes online through internet fashion retailer Asos.
Primark said it would sell a limited number of items online for a trial period, in order to gain "insight" into online retailing.
The budget fashion retailer has so far avoided investing in an online presence, focussing instead on expanding its High Street presence.
Primark is known for offering budget fashion aimed at young customers.
The trial with Asos will involve a limited number of items for a temporary period, but a Primark spokesman did not say how long the trial would last for.
They said the trial would offer an "insight into online retailing".
In a statement announcing the tie-up, Asos described Primark as a "retail phenomenon".
"With their unique take on the latest must-haves and newest trends, Primark fans can get their hands on their award-winning affordable fashion, from skinny jeans and denim to skater dresses and printed t-shirts," it said.
However, the Primark spokesman said that the company remained committed to rolling out new new stores in the UK and across continental Europe.
Primark recently agreed to open a store in the southern French port city of Marseille in December, followed by a second store in Dijon - its first move into France.
So far, its expansion into Europe includes six new stores in Spain, two in Germany, two in Austria and one in the Netherlands.
Primark has seen rising sales in recent months.
Asos has also bucked the overall gloom in the retail sector, with total sales rising 34% to £352.3m in the six months to the end of February.
It said its websites now attract nearly 20 million unique visitors a month.