Billabong shares plunge as takeover talks collapse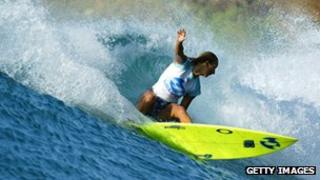 Shares in Australian surfwear maker Billabong have plunged after the firm said that takeover talks with two potential bidders had collapsed.
Its shares fell as much as 58% to a record low of A$0.19 on the Australian Stock Exchange on Tuesday.
Billabong had rejected a takeover bid valued at A$3.50 per share last year, but has struggled to restructure its business.
It said it was discussing refinancing options with the two bidders.
The two bidders are consortiums, one led by its former US head Paul Naude along with private equity firm Sycamore Partners, the other led by Altamont Capital Partners.
Billabong said it was also discussing the possibility of asset sales with the two, and proceeds from any such sales would be used to repay its existing debt.
"This is the worst fear that we had," said Evan Lucas, a strategist with IG markets.
"They are now in the situation where they are going to have to be completely refinancing; that will obviously dilute their share price and dilute any form of debt that they've already got, which is the concern they've had the entire time."
The firm also lowered its profit forecast for the financial year to 30 June.
It now expects to make a profit of A$67m-A$74m ($65m-$71m; £42m-£47m) for the period, down from its earlier projection of a profit of A$74m-A$81m amid "weaker trading in Australia" and "weak" sales in Europe.
"It certainly does not look like a great place to be and there'll be a lot of questions in regards to how their reporting was done considering how bad the company looks," said Mr Lucas.
Billabong has already sold assets, closed stores and replaced its chief executive in an attempt to revive the business.