Freeport suspends Indonesian mine after worker deaths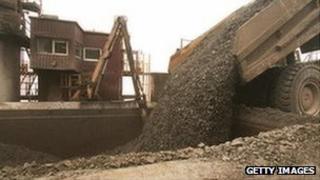 Operations at a US-owned mine in Indonesia have been suspended after the government ordered a halt to production following a tunnel collapse which killed 28 workers.
The deaths followed a collapse on 14 May at Freeport's Grasberg mine in the eastern province of Papua.
Production could be suspended for up to three months.
The Grasberg mine is one of the biggest copper and gold reserves in the world, producing 220,000 tonnes of ore a day.
A spokesperson for Freeport in Indonesia, Daisy Primayanti, said the company had suspended both its underground and open mine pit operation late last week after it received notification from the government.
She said the company was still assessing the impact of the halt on production and did not provide figures on the loss of output.
"We have been informed that the process will take a maximum of three months, but obviously our hope is to resume operation earlier," Ms Primayanti said.
She added that maintenance work was still continuing at the mine which employs about 24,000 people.