New Look back in profit after online sales boost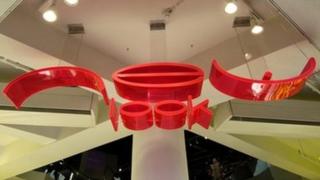 UK fashion retailer New Look has returned to profit after making a loss last year.
The firm, which has more than 1,100 stores, made a full year pre-tax profit of £3.1m after sales increased by 2.5%
As part of a recovery plan, the company has undertaken a programme of cost savings and improvements.
Sales in its High Street stores fell slightly but online transactions increased by 50.1% after it revamped its website.
'Worked hard'
"Our three-point turnaround plan of cost savings, margin improvement and revenue growth enabled us to deliver strong results and continue to re-invest in our business," said chairman Alistair McGeorge.
"We've worked hard to give customers an engaging experience, whether shopping with us online or in any of our physical stores."
New Look, which is owned by private equity groups Apax and Permira and founder Tom Singh, has debts of £1.1bn, which it has refinanced to give it more time to repay.
"This gives us a much improved capital structure and enables us to focus on the delivery of our strategy and business improvement," added Mr McGeorge
Online growth
The brand has the second largest share of the UK womenswear market and sells affordable versions of key fashion trends, as well as wardrobe basics such as jeans.
New Look has improved its online store by making it easier to use and extended the product range available, including offering brands and garments as online "exclusives".
Total sales made online in the 12 months to March 2013 reached almost £95m.
'Easily disrupted'
New Look has closed 42 underperforming stores and refurbished almost a quarter of its existing outlets in the last year. It now has 589 outlets in the UK.
The company reported that total revenues had increased by £36.5m to £1.48bn but noted that consumer confidence in the UK shows little signs of recovery.
It says that spending patterns are much more easily disrupted by factors such as poor weather conditions.
New Look increased its overseas stores from 499 to 549 and plan to open its first Chinese outlet in March 2014.