Heathrow's new Terminal 2 to open in a year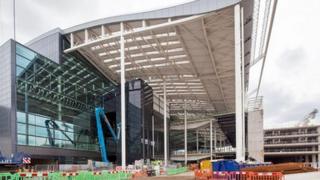 Heathrow's new £2.5bn terminal will open to its first passengers in exactly one year's time, the airport has announced.
The privately-funded terminal T2 will eventually serve 20 million people a year after its opening on June 4 2014.
It replaces the old Terminal 2 which was demolished in 2009.
More than 20 airlines and 25,000 staff will operate out of T2, part of a construction project that includes a 1,712ft (522m) satellite pier.
The project also incorporates a 1,340-space car park and a wood-chip fuelled energy centre, which will generate heat and power for T2 and T5.
'Warm welcome'
An average of 55,000 passengers are expected to arrive and depart each day from the terminal, which will have than 50 shops, as well as 17 bars and restaurants.
Heathrow development director John Holland-Kaye said: "The new T2 has been designed around the needs of our passengers, to allow them to get to and from their flights as quickly as possible.
"Like T5, it will promise world-class customer service and a warm welcome to Britain, which visitors expect from the UK's hub airport."
In 2008, Heathrow's new Terminal 5 opened and had a disastrous first day, with thousands of passengers' bags going astray and long queues.
T2 will open in phases, with airlines moving in over a period of six months.
Just 10% of flights will operate for the first three weeks of June 2014 before the airport gradually building up to operating at full capacity.
There will be six months of testing of T2, involving 14,000 people, before the opening.