Spain's jobless total falls in May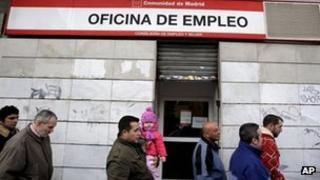 The number of registered job seekers in Spain fell in May as more firms hired people on a temporary basis ahead of the peak summer season.
Official statistics showed 4.89 million people were registered as jobless, the lowest level in six months.
Including the impact of temporary holiday hiring, the number of registered job seekers fell by 98,265.
"It's the best data we've seen since the crisis began," said Industry Minister Jose Manuel Soria.
Mr Soria said the non-seasonally adjusted drop was the biggest on record for May.
However, on a seasonally-adjusted basis, the number of jobless dropped by just 265 people compared with April.
The ministry did not provide a fresh estimate for the country's unemployment rate.
Last week, the European Commission's statistics office, Eurostat, said Spain's unemployment rate for April was 26.8%, the second-highest in the eurozone after Greece.
Spain, which is the eurozone's fourth-largest economy, has seen its jobless rate rise every quarter since mid-2011 as it struggles to recover from the collapse in its once-booming property sector.
Earlier this month, credit rating agency Fitch said it expected Spain's unemployment rate to peak early next year at 28.5%.
The Spanish government itself is more optimistic, forecasting the jobless rate will ease to 26.7% over 2014 and drop back further to 25% in 2015.