UK construction sector returns to growth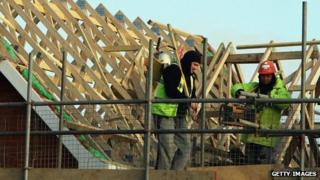 The UK's construction sector has returned to growth after six months of contraction, a survey has indicated, helped by an increase in the level of house building.
The Markit/CIPS Construction Purchasing Managers' Index rose to 50.8 in May from 49.4 the month before.
A figure above 50 indicates expansion.
"The construction sector seems to have turned a corner after six dismal months," said David Noble, CIPS chief executive.
'Worrying' dependency
The government announced measures in March 2013, such as Help to Buy, to support people looking to buy their first home and to spur construction of new properties.
The PMI survey found that house building in May was at its fastest pace for 26 months,
The amount of spending on commercial and civil engineering projects continued to fall, according to the survey, although in both cases the decline slowed from April.
Despite the promising figure for the sector overall, Markit chief economist Tim Moore sounded a note of caution.
"The latest figures suggest that the sector is worryingly reliant on residential building work for thrust," he said.
Key indicator
The construction sector has been an area of weakness in the UK economy.
Construction activity fell 2.5% in the first quarter of 2013, amid overall growth estimates of 0.3% and it still remains more than 18% lower than it was before the start of the financial crisis in 2008.
The positive PMI survey adds to signs that the UK economy is recovering. It comes a day after news that the manufacturing sector grew at its strongest pace in more than a year.
That survey indicated that British factories created jobs for the first time in four months and that both production and new orders had picked up, with the domestic market driving demand for new business.
When asked, construction firms said they were optimistic about the future. 40% of the firms questioned expect to see a rise in output over the next 12 months.
Employment levels in the sector were broadly unchanged in May. Firms attributed this to subdued overall demand in the industry, which means companies are not yet operating at full capacity.