Co-operative Bank appoints new chairman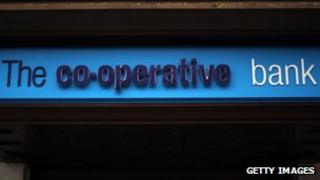 The Co-operative Group has sought to strengthen its management team, appointing a new group finance chief and a new chairman for the Co-op Bank.
Former Alliance & Leicester chief Richard Pym will become Co-op Bank's chairman with immediate effect.
The bank is in talks with regulators about its capital position after a credit rating downgrade last month.
Richard Pennycook, former Morrisons finance director, has been appointed as Co-op Group's new finance chief.
'Clearly focused'
Last week, former HSBC banker Niall Booker was appointed as the Co-op Bank's new chief executive.
His predecessor, Barry Tootell, resigned earlier this month after rating agency Moody's downgraded the bank's debt to "junk" status.
The bank halted new business lending last month amid concerns it needed to preserve capital.
There are worries that the lender is among the UK banks that need to strengthen their financial resources to protect the banking system against future crises.
The UK bank regulator, the Prudential Regulation Authority (PRA), is currently talking to banks about whether they need to raise more capital.
In March, the Bank of England said UK banks needed to raise cash reserves by £25bn over the next year, but did not give details of which banks were in need of cash.
Mr Pym said: "We are clearly focused on actions to strengthen the bank's balance sheet and resolving the current underlying issues."
"This will allow us to continue to provide customers with an alternative choice to the traditional banks.
"The British banking system is very concentrated, with a small number of institutions, and it is important [the bank] plays its full part in maintaining a competitive landscape for customers," he said.