Amazon launches first online shopping site in India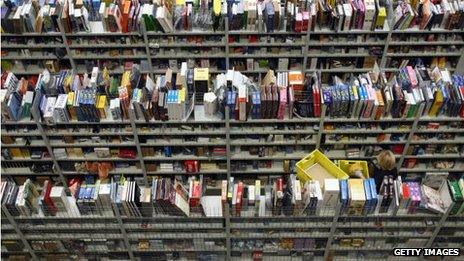 Online retailer Amazon has launched its first shopping website in India.
The company took its first steps into the Indian market in February 2012 when it launched Junglee.com, a site which allowed customers to compare prices online but not purchase items directly.
It will initially only sell books, films and TV shows but plans to offer mobile phones and cameras within weeks.
India has over 50 million active internet users, about 40% of whom have previously made purchases online.
Third party retailers will sell their goods through Amazon's site using a "marketplace" model, a familiar retail concept in India
Sellers send their goods to Amazon's warehouse near Mumbai. When an order is placed, Amazon packs and sends the order to the customer.
"Our vision is to become a trusted and meaningful sales channel for retailers of all sizes across India," said Amazon's Amit Agarwal, country manager in India.
"We will do the heavy lifting for the sellers so that they can focus on core business functions like sourcing and pricing their products."
The company cannot stock and sell its own products because Indian regulations prevent multi-brand retailers from selling directly to consumers online.
Multi-brand retailers are companies, such as supermarkets, that offer a wide range of different products. Laws in India were recently relaxed for overseas retailers.
This allowed firms such as US supermarket chain Walmart to open physical stores in the country and sell directly to customers.
However, restrictions still apply to goods sold online, which is why Amazon is forced to act as a third-party seller to India's online shoppers.
Also, reports suggest that Amazon is planning to roll out an online grocery business in the US, a sector of the market which is still relatively small in the country.
The company has plans to expand its AmazonFresh business, which has been operating for five years in Seattle, to Los Angeles and San Francisco before the end of the year, with some analysts suggesting that it could happen within days.
If these are successful, the company has plans to expand to 20 other areas in 2014, some outside the US.
Although food has low profit margins, Amazon could combine deliveries of groceries with higher value items such as electronic goods.
"Amazon have been testing this for years and now it's time for them to harvest what they've learned by expanding outside Seattle," said US-based supermarket analyst Bill Bishop.
"The fear is that grocery is a loss leader and Amazon will make a profit on sales of other products ordered online at the same time. That's an awesomely scary prospect for the grocery business."
It is not clear whether AmazonFresh currently makes a profit, because the company does not disclose results from the business. Amazon's chief executive Jeff Bezos said that they had "made progress on the economics over the last year" at a shareholders' meeting in May 2013.
Related Internet Links
The BBC is not responsible for the content of external sites.