More first-time buyers 'realise their dreams'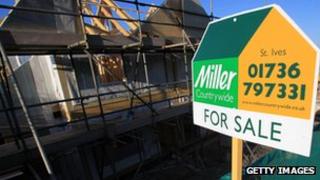 More first-time buyers are realising their dreams, with a significant rise in people making their first purchase, says the property company, LSL.
Its survey suggests that the number of first-time buyers has increased by 15% over the past year.
The company, which owns nine chains of estate agents, said first-timers have been helped by lower borrowing costs, and a wider choice of mortgages.
However, the report says finding the money for a deposit is becoming harder.
In the first four months of 2013, LSL said that 72,900 borrowers secured a deposit on their first flat or house.
That represents a 15% increase on the same four-month period in 2012, when 63,300 put down deposits.
The figures are likely to be an underestimate of the real increase, as demand for homes was artificially boosted in the spring of 2012 by changes to stamp duty rates.
'Super-strength' start
LSL said buyers were beginning to reap the benefits of the government's Funding for Lending Scheme (FLS), which has allowed them to put down smaller deposits to buy a home.
The idea of FLS is that banks and building societies can borrow money from the Bank of England at cheap rates, providing they pass that money on to other borrowers, such as home buyers.
Over the last year the average deposit size has fallen by 0.5%, to 19.6%, according to the survey.
"Transactions among first-time buyers increased significantly in April, as an improvement in the availability of high loan-to-value mortgages allowed more first-time buyers to realise their dreams of homeownership," said David Newnes, a director of LSL Property Services.
The result was "a super-strength opening to 2013 that has seen 15% more first-buyers than last year," he said.
In April this year, the Council of Mortgage Lenders (CML) reported the highest number of first-time buyers entering the market for five years.
It said the number of loans issued to such purchasers rose by 17% between February 2012 and February 2013.
Affordability
Mortgage rates themselves have also come down. LSL reports that average rates are down from 4.66% a year ago, to 4.31% now.
But despite cheaper mortgages, and smaller percentage deposits, it is getting harder for first-time buyers to afford a property.
Because house prices have risen, the size of the deposit required is getting bigger in money terms.
In April 2012 the average deposit needed was £24,842. One year on, buyers need to find £27,178.
That sum also represents a higher proportion of a buyer's salary than it did a year ago.
David Newnes calls that "a second blow for potential buyers that is large enough to knock many out of the ring and prevent them from buying".
He also claims that the government's new Help-to-Buy scheme, which began in April this year, could make things harder, not easier, for home buyers.
"Schemes like to Help-to-Buy are designed to launch a counter-offensive on deposit requirements," he said.
"But the scheme may actually inflate property prices, so may turn out to be counter-productive."