European Central Bank cuts growth forecast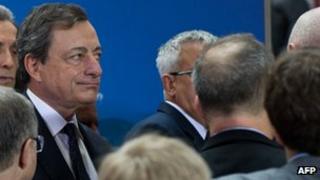 The European Central Bank (ECB) has revised down its eurozone growth forecast as it voted to hold rates at historic lows.
The ECB now expects the euro area to contract by 0.6% this year, having earlier predicted a GDP fall of 0.5%.
ECB President Mario Draghi said the Bank still saw "downside risks" for the eurozone economy, but insisted a gradual recovery would begin in 2014.
The ECB's benchmark rate was kept at 0.5%, after being cut last month.
May's cut from 0.75% was the first in 10 months.
The decision not to cut rates further came despite an ongoing recession across the 17 countries that use the euro.
'Recovery in 2014'
Mr Draghi told a press conference the bank had also marginally revised up its 2014 forecast to 1.1% growth.
"The governing council continues to see downside risks surrounding the economic outlook for the euro area," he told journalists.
"They include the possibility of weaker than expected domestic and global demand and slow or insufficient implementation of structural reforms in euro area countries."
However, he stuck with previous predictions that a gradual recovery would begin in the second half of the year.
"Export growth should benefit from a recovery in global demand, while domestic demand should be supported by the accommodative stance of our monetary policy and by the recent real income gains due to lower oil prices and generally lower inflation," the president said.
Draghi ducked questions about precisely how many members of the ECB's Governing Council voted to cut interest rates.
Instead he said "the vastly prevailing consensus" was there had not been any events deemed significant enough to merit a cut.
European shares took a hit after the press conference, with investors disappointed that the president seemed unwilling to dig deeper into the ECB's tool box to stimulate the economy.
"As regards any future policy measures, ECB president Draghi kept all options open but also tempered expectations about a quick ECB fix for the real economy," noted ING economist Carsten Brzeski.
The eurozone's GDP shrank 0.2% in the first quarter - the sixth quarter of decline in a row.
The rate announcement came shortly after figures showed unemployment in France rose to 10.8% in the first quarter of the year - its highest level since 1998.
The jobless rate grew from 10.5% in the last quarter of 2012, the official Insee statistics agency said.
The French economy went into a recession after seeing GDP fall by 0.2% in the first quarter.