Nuisance telephone calls 'overhaul needed'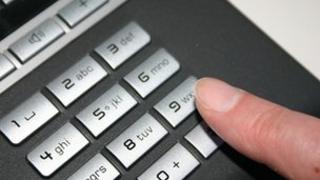 An industry-run service to prevent unsolicited marketing calls is not working, according to a survey by the consumer group Which?
Cold-calling people subscribed to the Telephone Preference Service (TPS) is not allowed without consent.
But Which? said that people registered with TPS still received double the average number of unsolicited calls than those not signed up.
And most TPS users interviewed were not happy with the service.
Nineteen million phone numbers are registered to the TPS - around three-quarters of all landlines in the UK.
"While people registered with the TPS report a decrease in nuisance calls after signing up, they received on average 10 unsolicited calls in the last month," the group said. "This compares to five on average for those who have not signed up."
About six in 10 people registered with the TPS are not satisfied with the service, Which? added. It sampled 2,070 people in the UK.
"Consumers are sick and tired of being bombarded with nuisance calls and texts," said Which? executive director, Richard Lloyd. "The current system is failing the public and given the scale of this problem, it's time for the government to step in.
"We urgently need to see a new approach, new laws and new technology to tackle this scourge on people's lives. People must be put back in control of their personal data."
It called on the Information Commissioner's Office (ICO), the Ministry of Justice, Ofcom and the Office of Fair Trading to form a joint taskforce within 12 weeks to stop unwanted calls and texts.
The ICO can issue fines of up to £500,000 for breaches of regulations on unwanted calls, texts and emails.
The Telephone Preference Service - which is not paid for by the government and is funded by the direct marketing industry - runs a register that allows people to opt out of any unsolicited sales or marketing calls.
It is a legal requirement that organisations do not make such calls to numbers registered on the TPS unless they have the individual's consent to do so.
John Mitchison, head of the TPS, said: "By law, companies can't make unsolicited sales and marketing calls to people registered with the Telephone Preference Service.
"TPS registration stops unsolicited calls from law-abiding companies that check names against the TPS's 'do not call' list. However, it can't physically block calls from rogue companies that flout the law.
"We agree with Which? that further steps must be taken to stop nuisance calls. The legislation to support this already exists: companies breaking the law are liable to fines of hundreds of thousands of pounds.
"Government regulators need to enforce the law to punish those breaking the law, which would deter others from doing so."
A spokesman for the ICO said: "The ICO would welcome any improvements that make it easier for us to stop consumers receiving unwanted marketing calls and texts.
"We have been working with the government and other relevant organisations, including Which?, to look at how the law around consent might be improved to provide greater consumer protection.
"We have also been discussing changes to the law that would make it easier to prosecute organisations who break the rules."