Japan growth data revision adds to recovery hopes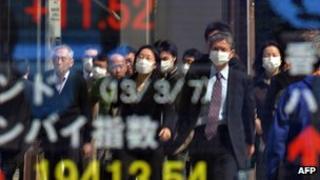 Japan has revised up its growth numbers for the first three months of the year, adding to hopes of a recovery in the world's third-largest economy.
The economy grew 1% between January and March, compared to the previous three months, indicating an annualised growth of 4.1%, the cabinet office said.
That is up from the initial estimates of 0.9% quarter-on-quarter growth.
The data follows a series of aggressive policy moves aimed at spurring growth in Japan's economy.
The upward revision in the growth numbers helped lift investor morale, with the Nikkei 225 index jumping nearly 5%.
The surge was led by Japan's major exporters, with shares in Toyota rising 8.5% and Sony up by nearly 7%.
"The overall impact of the the policy measures introduced by Prime Minister Shinzo Abe and the Japanese central bank is now starting to be felt," Martin Schulz of Fujitsu Research Institute told the BBC.
Market sentiment was also boosted by the drop in the yen's value.
The Japanese currency was trading close to 98.26 yen against the US dollar in Asia on Monday, down from the 94.98 yen high hit on Friday.
Right strategy?
Since the re-election of Mr Abe in December last year, Japanese policymakers have introduced a slew of measures aimed at reviving the Japanese economy from years of stagnation.
They include a move by the central bank to double its inflation target.
Japan has witnessed years of deflation of falling consumer prices, which deter business and consumers from spending as they tend to hold out for a better deal.
In an attempt to boost consumer spending, the Bank of Japan has doubled the country's money supply, pumping in trillions of yen into the money markets. At the same time, it has taken steps to keep the long term interest rates low.
The idea being that with more money sloshing around, and with borrowing costs being low, consumers and businesses will have more cash to spend and thus drive up domestic demand and eventually trigger a jump in consumer prices.
The move has also had an significant impact of the Japanese yen, which has fallen nearly 25% against the US dollar since November last year.
That has helped exporters, making Japanese firms more competitive in overseas markets and increasing the value of their overseas earnings, when they repatriate their profits back home.
It has also sparked a big rally in the Japanese stock markets.
Analysts said that the revised data, which showed that domestic demand in the first three months of the year was better than initial estimates, indicated that Japanese policymakers had made the right moves.
"It shows that their overall strategy in taking measures that have helped weaken the yen has been right," said Mr Schulz.