Ban payday loan adverts on campus, says NUS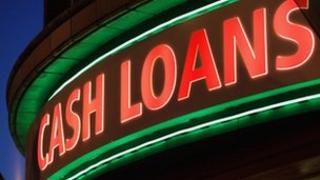 A students' union has backed a ban on payday lenders advertising on campuses, but the industry has said it will do nothing to stop rogue operators.
The University of Northampton, Northumbria University and Swansea University have stopped any adverts.
Now the National Union of Students (NUS) has called on other institutions to join its campaign to protect students from marketing by these firms.
A lenders' body said only some working students would ever be offered a loan.
The Consumer Finance Association (CFA). which represents many of the major payday firms, said that students would need to be in regular employment to qualify for a loan from a reputable lender.
'Financial struggle'
Advertising and offers of short-term, high-interest loans have been put under the spotlight recently.
There are nearly two million payday loan customers, but there has been widespread concern that some lenders have been encouraging people to take on debts that then rapidly spiral out of control.
The Office of Fair Trading (OFT) said earlier this year that there was "widespread irresponsible lending" by the industry, but a committee of MPs criticised the regulator's own policing of the sector.
The NUS is urging colleges and universities to ban adverts by these companies.
"Students are struggling to make ends meet, and this is having a real impact on their wellbeing and their education," said Pete Mercer, from the NUS.
"It is great that these institutions have already joined our campaign, and I hope that others will soon follow suit."
But Russell Hamblin-Boone, chief executive of the CFA, said the campaign was misjudged.
"It is concerning that the NUS is denying choices to its members, who are all educated and intelligent people, without fully understanding either the short-term lending industry or the way young people are managing their finances in 2013," he said.
"Payday loans are extremely flexible, but that does not make them right for everybody. To get a loan from a reputable and responsible short-term lender you need both regular and disposable income."
This meant it was not the correct choice for many students, he said.
"We fully support the desire of the NUS to protect its students and any efforts to drive out rogue lenders, but this campaign against advertising on campus will do little to tackle bad lending practice, and discredits the whole industry unjustifiably," he added.