Thames Water paid no UK corporation tax for the year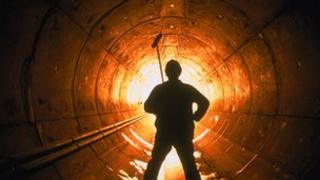 Thames Water, the UK's biggest water firm, paid no corporation tax this financial year despite making £145m in pre-tax profit.
It said it had delayed paying corporation tax due to investments in its infrastructure amounting to £1bn a year between 2010 and 2015.
"The government's tax system allows us to delay, not avoid, payment of tax based on how much we invest," it said.
The firm increased bills by 6.7% last year.
Thames Water's tax payments were detailed in its results for the year to the end of March, showing that pre-tax profits had fallen 35% due to bad weather as well as a rise in unpaid bills.
It said revenues rose 6% to £1.8bn.
Operating profits, which strip out exceptional items were £549m for the year.
The figures come in the wake of criticism by Jonson Cox, chairman of water industry watchdog Ofwat, who said the tax-reducing corporate structures of some water companies were "morally questionable".
"Tax policy is not for an economic regulator and these structures may be legal and common in private equity. But some aspects are morally questionable in a vital public service," Mr Cox wrote in an article for the Daily Telegraph.
Thames Water, which is privately owned, said it had contributed around £150m in other taxes, including central and local government business rates, PAYE and national insurance.
"We currently have nearly £1bn of deferred tax on our balance sheet," it added.
Thames Water serves London, Berkshire, Buckinghamshire, Gloucestershire, Kent, Oxfordshire, Surrey and Wiltshire and has 14 million customers.