Britvic and AG Barr merger provisionally cleared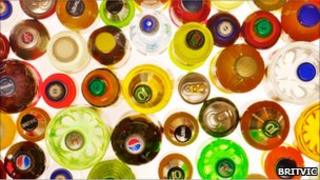 The Competition Commission has provisionally cleared a planned merger between drinks makers AG Barr and Britvic.
The Commission said the proposed union of the two companies would not cause harm to competition or cause wholesale prices to rise significantly.
AG Barr makes Irn Bru and Orangina, while Britvic is known for making brands including Tango and Robinsons.
The Commission is expected to publish its final report by 30 July.
The inquiry concluded that the two companies' brands were not close competitors.
"We have provisionally concluded that customers will not lose out," said Alasdair Smith, Competition Commission deputy chairman, who was in charge of the merger inquiry.
"Carrying out a full investigation gave us the chance to look in detail at consumer preferences. They told us that consumers tend to see Barr and Britvic brands as distinctive products rather than close substitutes for each other."
AG Barr has a strong presence in Scotland and is best known as the maker of Irn Bru. Its other brands include Tizer, KA and Strathmore Water. Britvic is the licensed producer of PepsiCo brands in the UK, and also makes Tango, 7UP, and Lipton Ice Tea.
Britvic say that they will continue to co-operate with the Commission in the lead-up to its final decision in July.
The merger plans were first announced in September 2012, in a deal the two companies said had "compelling industrial logic".
They argued it would "represent an opportunity for both companies to enhance their industry position, and achieve significant synergies and shareholder value".
Job losses
Under the merger, the new company - Barr Britvic Soft Drinks - would become one of Europe's largest soft drink firms, with annual sales of more than £1.5bn.
Its head office is expected to be in Cumbernauld, North Lanarkshire, where AG Barr is currently based.
The new group's operational headquarters will be located at Britvic's existing head office in Hertfordshire.
In May 2013, Britvic announced plans to close its factory in Chelmsford, the city where the company was founded, resulting in around 230 job losses.
Britvic also announced it was to close its Pennine Spring water factory in Huddersfield, with 40 job losses, along with a warehouse in Belfast that employs 20 people.
Britvic said the closures were needed to protect the long-term future of the business.