Vodafone in preliminary bid for German cable TV company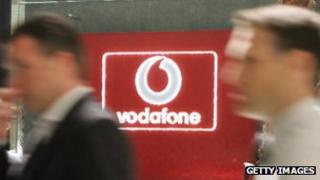 Vodafone has admitted that it is courting Germany's top cable television company for a possible takeover.
The British mobile operator confirmed its approach to Kabel Deutschland, which supplies 8.5m German households. Market speculation has the bid worth 10bn euros ($13.3bn; £8.5bn).
It would mark a change in strategy for Vodafone, that has largely focused on mobile phone services in Europe.
Vodafone is one of the world's largest mobile phone companies.
It has more than 407m customers worldwide.
Reports suggested that talks between the two have not formally started, because the German company believed the price suggested by Vodafone was too low.
In a statement, Vodafone said: "There is no certainty that any offer will ultimately be made, nor as to the terms on which any such offer might be made."
The British company recently expanded its presence in Germany by announcing a link-up with Deutsche Telekom to offer pay-TV via high-speed broadband to its customers.