Tenants face 'out of control' fees, says Shelter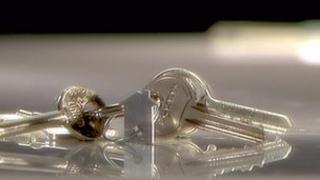 Lettings agents in England charge tenants an average of £350 in fees on top of a deposit and up-front rent, a housing charity has said.
Shelter set up anonymous testing of 60 lettings agencies to record what they charged to set up a tenancy, make credit checks and other paperwork.
It called for new rules to ensure these fees were only paid by landlords.
But the lettings agents' trade body said it was fair that tenants made a contribution.
The Association of Residential Lettings Agents said that if this was not the case, then rents would rise.
Non-refundable
The sector has seen considerable demand from new tenants, with mortgages more difficult to come by for first-time buyers.
The Office of Fair Trading recently found that about a third of all complaints about the lettings market were about fees and charges.
Concerns have been raised about how many of these charges were "drip-fed" after tenants had signed a contract.
Shelter claimed that its research showed that fees were gathered from both tenants and landlords. This meant that lettings agents were being paid twice for the same work, it said.
In some cases, these fees were non-refundable, even if the agreement collapsed through no fault of the tenant, it said.
The charity's chief executive, Campbell Robb, said these charges had become "out of control" and had caused financial hardship for many tenants.