World Bank cuts China growth forecast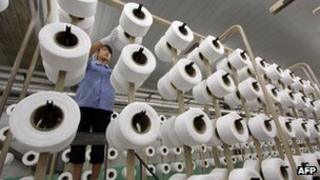 The World Bank has cut its growth forecast for China amid warnings of slower but more stable global growth over the coming months.
The bank now expects the China to grow 7.7% in 2013, down from its earlier projection of 8.4%.
It also cut the forecast for global economic growth to 2.2% from 2.4%.
The bank said growth in China, the world's second-largest economy, had slowed as policymakers look to rebalance its growth model.
Over the past few decades China has relied heavily on exports and government-led investment to boost its economy.
However, a slowdown in key markets such as the US and Europe has seen a decline in demand for Chinese exports, prompting concerns whether China can sustain its high growth rate.
There have been calls for China to take measures to boost domestic demand to offset the decline in exports and rebalance its economy.
While Beijing has been keen to boost domestic consumption, analysts have said that the shift in its growth model may see China's growth rate slow in the short-term.
'Main risk'
The World Bank's cut to China's outlook comes just six months after it raised its forecast for the Chinese economy.
In a report released in December last year, the bank said that stimulus measures and approval of infrastructure projects would help boost China's growth, and raised it forecast for 2013 to 8.4% from 8.1%
That was after Beijing had approved infrastructure projects worth more than $150bn (£94bn).
However, in its latest report, the bank raised concerns over China's investment-led growth model.
"The main risk related to China remains the possibility that high investment rates prove unsustainable, provoking a disorderly unwinding and sharp economic slowdown," it warned.
It further added that "should investments prove unprofitable, the servicing of existing loans could become problematic - potentially sparking a sharp uptick in non-performing loans that could require state intervention".
'Unusually protracted'
Globally, the World Bank said growth remained subdued in high income countries, especially in Europe, despite improvements in financial conditions.
It added that growth in emerging economies such as Brazil and India, which have seen robust growth rates in the past few years, have slowed more recently.
It said any pick-up in growth of developing countries was likely to "modest".
"While there are markers of hope in the financial sector, the slowdown in the real economy is turning out to be unusually protracted," said Kaushik Basu, chief economist at the World Bank.
"This is reflected in the stubbornly high unemployment in industrialised nations, with unemployment in the eurozone actually rising, and in the slowing growth in emerging economies."