British Gas owner buys 25% stake in shale gas licence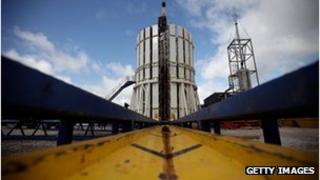 Centrica has bought a 25% stake in a shale gas exploration licence in North West England.
Centrica, which owns British Gas, has paid Cuadrilla Resources and AJ Lucas Group £40m for a quarter of the Bowland exploration licence in Lancashire.
If viable, any shale gas would be extracted by the new and controversial technique of fracking.
AJ Lucas contends that there could be as much as 200 trillion cubic feet of gas in the area.
AJ Lucas, which part owns Cuadrilla, said the group had been looking for investors back in January.
Mark Hanafin, Managing Director of Centrica's International Upstream business, said:
"With North Sea gas reserves declining and the UK becoming more dependent on imported gas supplies, it is important that we look for opportunities to develop domestic gas resources, to provide affordable sources of gas to our customers, and to deliver broader economic benefits to the UK."
Centrica is paying £40m for the licence stake and has committed a further £60m for exploration and appraisal.
It's expected the drilling will happen in up to six locations in Lancashire over the next few years, commencing in 2014.
Cuadrilla will remain the operator of the sites.
Uncertain future
Fracking is a method of breaking or fracturing rocks far below the earth's surface using highly pressurised jets of water mixed with sand and chemicals. The object is to release pockets of natural gas or deposits of oil that can then be extracted.
Environmentalists believe the practice has inherent dangers - it's claimed it can trigger earthquakes and contaminate underground water deposits.
According to a recent report from the Institute of Directors (IoD), it's estimated that natural gas from shale could reduce the amount the UK has to import in 2030 from to 37% from the current 76%.
The IoD also predicted that eventually shale gas fracking and its related industries could support 74,000 jobs through an annual investment of £3.7bn.