Saudi Arabia's Prince Alwaleed defends libel action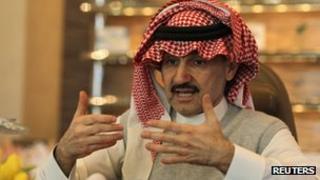 Prince Alwaleed of Saudi Arabia has defended his decision to sue the business magazine Forbes.
The billionaire is seeking damages over what he claims were "seriously defamatory comments" made about him.
In March, Forbes calculated Prince Alwaleed's fortune to be $20bn (£12.7bn), placing him 26th on the magazine's Rich List.
He disputed the methodology used and said Forbes had "insulted" the business community in Saudi Arabia.
Prince Alwaleed has previously said that the magazine underestimated his fortune by $9.6bn (£6.1bn).
However, in a statement, Prince Alwaleed's investment vehicle, Kingdom Holding Company, said the libel action was not about his ranking on the Forbes Rich List, but about "correcting the seriously defamatory comments that have been made about HRH Prince Alwaleed as an individual and Kingdom Holding Company".
The case has been filed in a London court.
'Insulting and inaccurate'
Kingdom Holding Company owns stakes in Rupert Murdoch's News Corporation and London's Savoy Hotel.
Prince Alwaleed also accused Forbes of publishing a "deliberately insulting and inaccurate description of the business community in Saudi Arabia and specifically, Forbes' denigration of the Saudi stock exchange (Tadawul), which is one of the most regulated in the world".
In the Forbes article, a former executive with Alwaleed's company is quoted as describing the Saudi Stock Exchange as a place of gambling.
In calculating his wealth, Forbes said it valued the underlying investments of Kingdom Holding Company, rather than the shares listed on the Saudi Stock Exchange.
This, according to Prince Alwaleed, was an "irrational and deeply flawed valuation methodology, which is ultimately subjective and discriminatory".
In a statement, Forbes said it is "bemused by Prince Alwaleed's ego-driven PR stunt".