US retail sales beat forecasts in May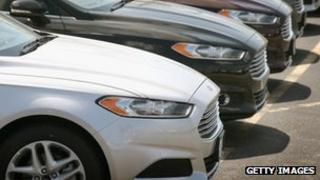 US retail sales rose more than expected last month, helped by a jump in car sales, government data has shown.
Retail sales increased by 0.6% in May from April, the Commerce Department said. Analysts had forecast a rise of about 0.4%.
Car sales rose by 1.8%, the biggest gain in six months.
The retail sales data is the government's first look each month at consumer spending, which makes up 70% of economic activity in the US.
Retail sales account for about 30% of all consumer spending.
Sales at hardware stores increased 0.9% while sales at sporting goods and general merchandise stores also rose.
But sales fell 0.8% at furniture stores and 0.4% at electronics and appliance stores.
Core sales, which exclude vehicles, fuel and building supplies, rose by 0.3%.
The data suggests that consumers remain resilient despite recent tax rises and belt-tightening in Washington.
"Households may... be getting over the tax hikes and spending some of the savings from the recent fall in gasoline prices," Paul Dales, US economist at Capital Economics, said.
The sales report may also add to the debate on when the Federal Reserve might start reining in its bond-buying programme.
"These data were strong and confirmed the Fed has the leeway to signal it's ready to pull out," said Robbert Van Batenburg, director of market strategy at Newedge USA.