Budget airline Fastjet gets clearance for African routes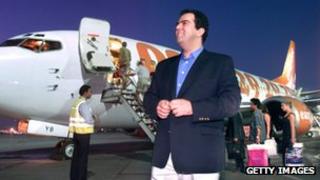 Fastjet, the African budget airline, has been granted permission to launch international flights from its hub in Tanzania.
The company, which is backed by Easyjet founder Stelios Haji-Ioannou, will fly to South Africa, Zambia and Rwanda.
It received route approvals from the relevant governments under Bilateral Air Services Agreements (BASAs).
Fastjet also said it was putting its plans to launch a domestic service in South Africa on hold.
"This is a monumental day in Fastjet's history, and brings us closer to our goal of becoming Africa's first pan-continental low-cost airline," said Ed Winter, chief executive and chairman.
"We have expended huge effort over the past six months in obtaining these rights, and we can only thank the government and population of Tanzania, who have lobbied hard to allow us to gain access to the bilateral rights to operate to these countries.
"We will soon announce launch dates for flights to Johannesburg, Kigali and Lusaka from Dar es Salaam."
The company is hoping to offer early bookers flights between Johannesburg and Dar es Salaam for around $100 (£64), one-way, excluding government taxes and charges.
Cleared for take-off
Separately, on Thursday, the company agreed to create a low-cost airline operating within Nigeria, jointly with Nigeria's Red 1 Airways.
Fastjet was created following its acquisition of the African airline Fly540, and operates from four bases in Kenya, Tanzania, Ghana and Angola.
As such, it already has 10 aircraft serving around 25 destinations within Africa.
Fastjet also announced it had secured financing of up to £15m ($23.5m) through an equity deal with Darwin, a subsidiary of fund managers Henderson Global Investors Volantis Capital.