Majestic Wine profits increase but sales decline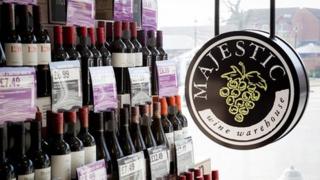 Majestic Wine has reported a rise in profits despite a decline in sales.
Profits rose by £0.5m to £23.7m, the company said, in the year to 1 April. However, total sales fell by £5.9m, or 2.1%, to £274.4m after Majestic reduced its trading in the wholesale market.
The wine merchant said customer numbers had increased by 56,000 to 624,000, with the average amount spent per transaction unchanged at £128.
Majestic also said it had seen a strong increase in sales of English wine.
Online sales have increased by almost 15%, which the company said was helped by the reduction in the minimum order for delivery to six bottles.
"Majestic is in excellent shape and has made good progress with the four key elements of our future growth strategy: new stores, business customers, e-commerce and fine wine," said chief executive Steve Lewis.
The retailer said sales in the current financial year were in line with forecasts, although sales had "started slowly" because of the timing of Easter and the boost given to sales in 2012 by the Diamond Jubilee.