Q&A: What does the Co-op Bank rescue mean for you?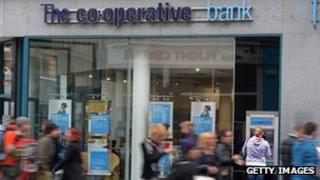 Thousands of bond holders in the Co-operative Bank will face losses as a result of the rescue plan announced on Monday.
In total 7,000 private individuals hold bonds, and they will lose a large proportion of their money. Many of those are pensioners, attracted by the high rates of interest that were payable on the bonds.
The bank is being restructured because of large losses it inherited when it took over the Britannia Building Society in 2009.
But the 4.7 million customers of the Co-op Bank will not be affected.
What should I do if I am a customer of the Co-op Bank?
Customers will be unaffected by the changes announced on Monday. Anyone with a bank account, a mortgage, or any kind of savings product, including fixed-term deposits, will see no change.
In any case, customers in the UK are protected by the deposit guarantee scheme, which protects the first £85,000 of money with any one bank or building society.
Who will be affected?
Some 7,000 private individuals who originally bought permanent interest-bearing shares (Pibs) in the Britannia Building Society.
These were honoured by the Co-op when it took over the Britannia in 2009, but they were converted into what are now called "perpetual subordinated bonds" (PSBs). A "subordinated" bond means that the holder is amongst those most likely to have to surrender their money, should a company or bank run into financial trouble.
The bonds affected are the 13% PSB, which was originally issued in 1992, and the 5.5% PSB, which was issued in 2005.
Were these individuals warned they might lose their money?
The Co-op says they are relatively sophisticated investors, who would have been sold their Pibs through an Independent Financial Advisor (IFA).
The IFA should have given them advice about how risky these investments were, although since most of these would have been sold before the financial crisis, there would have been little reason to suspect that a building society or a bank might fail.
How much money will the bondholders lose?
Most of the bondholders own about £1,000 of bonds or less. A few own a much larger amount. The capital value of the bonds has fallen substantially. Those who own the 13% bonds have seen their value halve since the beginning of May.
Those who own the 5.5% bonds have not been hit so badly, but they will still have lost hundreds of pounds on average.
The Co-op has also announced that it will not be paying the next interest instalment on the 13% bonds, which is due at the end of July.
What will bondholders get in compensation?
Bondholders will be offered new bonds, which are likely to pay a much lower interest rate than those they currently own.
They will also be offered shares in the Co-op Bank. The details have not yet been decided.
But the Co-op said today that they would be able to participate in the future profits of a stronger bank.
Will taxpayers be liable at all?
Unlike the rescues of RBS, Lloyds and Northern Rock, tax-payers will not be liable. Rather than a public "bail-out", this kind of restructuring is known as a "bail-in".
The idea is that bondholders in the bank take the hit, rather than taxpayers. Most bonds are held by big institutions, but some individuals are also involved.
Why does the Co-op Bank need to make these changes?
Many of the Co-op Bank's problems stem from 2009, when it took over the Britannia Building Society. The Britannia had made large losses on business and property loans, which were inherited by the Co-op.
As a result the Co-op now needs to raise an extra £1.5bn in capital reserves. Its progress will be closely watched by the newly-established Prudential Regulation Authority, which is part of the Bank of England.
Are Pibs a safe investment?
Permanent interest-bearing shares are still widely used by around ten of the larger building societies, like Nationwide, as a means of raising capital. According to the Building Societies Association (BSA), the number of individuals holding them is "relatively modest".
They are attractive because they offer relatively high interest rates, which can appeal to people needing an income, such as pensioners.
But experts warn that they are also high risk, so they should only be held as a small part of an investment portfolio. Danny Cox, of Hargreaves Lansdown, said what has happened to Co-op bondholders is "a useful reminder to be careful" with such investments.
But he pointed out that their value had fallen sharply so now may not be the best time to sell.