China's Dalian Wanda to buy UK yacht maker and hotel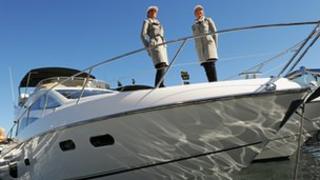 Dalian Wanda Group, a Chinese property developer, has said that it will spend £1bn ($1.6bn) to buy a British yacht maker and property in London.
Wanda will pay £320m for almost 92% of Sunseeker International, famous for providing yachts for James Bond movies.
It will also invest £700m to develop a five-star hotel in London.
The luxury hotel in London will be the first such development to be operated by a Chinese firm overseas. The move was welcomed by the Mayor of London.
'Soaring global confidence'
Boris Johnson said that the deal was "yet another sign of the soaring global confidence in London as a world-beating place to live, work and do business".
Wang Jianlian, chief executive and founder of Wanda added that "the London property market has excellent investment opportunities and we have confidence that Wanda's strength and expertise will help make The Wanda London's premier hotel, and will further promote development in the area".
The new hotel will be built by the river in Vauxhall, South London as part of the Nine Elms regeneration.
Wanda, which was founded in 1998 and already operates 34 five-star hotels in China, said that it plans to build a chain of Wanda hotels across other foreign cities as well.
"Through the international development of Wanda Hotels, we are confident that we will be the leader in bringing branded Chinese luxury hotels to the global market, where they have long been absent," said Mr Wang, who is one of China's richest men
'Exponential growth'
China's rapid economic growth has been accompanied by a surge in the number of high net worth individuals, which has driven up demand for luxury goods.
In an attempt to cater to growing demand and tap into the lucrative market, Chinese firms have been keen to buy established foreign brands.
"Sunseeker's powerful motor yachts have featured in four James Bond films and countless paparazzi photos so it's no coincidence that the brand is now being sold to a country with no shortage of multi-millionaires," said the BBC's John Sudworth in Shanghai.
"It's another sign of China's growing UK imprint. Chinese businessmen now have interests in brands as diverse as Birmingham City Football Club, MG Cars, Thames Water and Weetabix."
Mr Wang said: "China's consumption is growing, especially the market for high-end luxury products, it is growing very rapidly."
"We have noticed the growth in consumption of luxury yachts, also private planes," he said, adding that the growth in the luxury segment was "exponential".