Bank of England votes 6-3 against increasing QE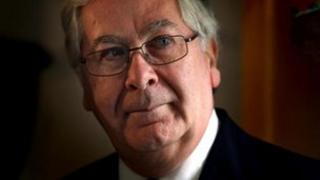 Bank of England governor Sir Mervyn King was outvoted again at his final meeting of the Bank's rate-setting committee, minutes show.
For the fifth month in a row, the monetary policy committee (MPC) voted 6-3 in June against increasing the programme of quantitative easing (QE).
Sir Mervyn, along with Paul Fisher and David Miles, voted to increase QE by £25bn.
All nine members of the MPC voted to keep interest rates on hold at 0.5%.
Sir Mervyn steps down from his role as BoE governor next month, to be replaced by the former governor of the Canadian central bank, Mark Carney.
Eurozone risks
Under the programme of QE, the Bank has pumped £375bn into the economy in an attempt to stimulate growth.
Minutes of the meeting show that those favouring an increase in QE thought the case for extra monetary stimulus "remained compelling".
While recent surveys of the economy had indicated an improvement in conditions, they said the outlook was no stronger than projections in the Bank's latest inflation report.
They also said that the risks from the eurozone remained "substantial".
However, the majority of members thought current policy was "appropriate". They said the effects of previous asset purchases under QE were still working through the economy, and this, together with the Funding for Lending scheme, should continue to boost activity.
Philip Rush at Nomura said: "It's as expected in terms of the vote split but, for me, the tone is slightly more dovish than the market might have expected.
"The minority voting for more QE thought the case for more stimulus remained compelling and the economic outlook was no stronger than it was in May. It seems clear that both Fisher and Miles will continue to vote for more QE when Carney takes over next month."