Royal Mail workers vote against privatisation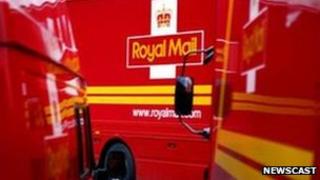 Royal Mail workers have voted strongly against the government's proposals to privatise the postal group.
Of the 112,000 workers who voted - a 74% turnout - 96% rejected the plan, which could see the firm float on the stock exchange next year.
Unions pointed to improved profits as evidence that privatisation is not needed to turn Royal Mail around.
For the year to the end of March, the company's operating profits more than doubled to £403m.
Workers also voted to support a boycott delivering competitors' mail.
However, the Communications Workers Union gave an undertaking on Wednesday not to induce its members employed by Royal Mail to refuse to handle access letters and parcels, before a further hearing at the High Court at the end of the month.
"This company is flourishing in public ownership... so why privatise this profitable company," said Billy Hayes, general secretary of the Communication Workers Union.
"Today's ballot shows we have resounding support for all the union's policies."
Injunction
Royal Mail said it was "committed to seeking an agreement with the union" on the future of the company, but said it would be unlawful for postal workers to boycott delivering mail from competitors, such as private postal services. It is currently seeking an injunction from the High Court against any such boycott.
Business Minister Michael Fallon said he was "disappointed" by the vote, but highlighted the fact it was "only a consultative ballot, not a mandate for action".
"Everyone agrees that Royal Mail needs to change if we are to protect the future of the six-day-a-week, one-price-goes-anywhere service. To do so, Royal Mail needs future access to private sector capital to meet the challenges of a changing postal market."
Last year the Royal Mail's delivery business returned to profit after several years of heavy losses. The rise of email has led to a fall in demand for posting letters and that has hit the company hard.
However, the recent turnaround has resulted largely from an increase in parcel deliveries from online shopping.