Dixons Retail pushed into loss by Pixmania costs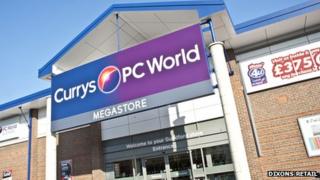 Dixons Retail, the owner of Currys and PC World, has reported a loss after being hit by costs from its troubled online outlet Pixmania.
It posted an annual pre-tax loss of £115.3m, after being hit by asset writedowns and restructuring charges, mainly relating to Pixmania.
However, stripping out one-off costs, underlying pre-tax profits increased by 15% to £94.5m.
Like-for-like sales increased by 4%, with good growth in UK sales.
The group has seen UK sales increase by 7% over the last year, following the demise of rival Comet in 2012. Dixons says that it now has a 21% of the electrical goods market.
The UK sales growth helped to offset the fall in sales in austerity-hit European countries such as Greece.
"It's tough out there and we don't anticipate that getting better in the near future," chief executive Sebastian James told the BBC.
'Complicated story'
Pixmania recorded an overall loss of £31.3m, with sales falling by 24%. The company has cut more than 600 jobs in the division over the year.
Dixons said it had "refocused" its web-based outlet and had reduced costs.
On the Pixmania restructuring, Mr James said: "We've spent this year cleaning up the business and focusing it on what it does really well, and we're now exploring all the options to see what we should do about it this year."
Liz Faulkner, from retail consultancy Conlumino, said that the group faced a number of challenges ahead and predicted that growth in the UK will be minimal.
"Dixons has ended its year posting a strong set of results; but behind the market beating headline lies a more complicated story, with the group working adeptly to react to a period that has bought a variety of challenges across its European businesses," she said.