Alibaba: The next Facebook?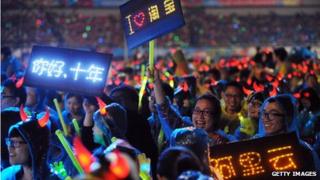 Most people will probably have heard of Amazon and eBay, but not the world's largest e-commerce company - which is the Chinese firm, Alibaba.
The Alibaba Group is larger than Amazon and eBay combined.
Unless you're in the supply chain business, few are likely to have heard of it before. It's because the company operates predominantly in China.
Think of Alibaba as a company that is a combination of eBay and Amazon. It is an online company with multiple revenue streams that are more conventional than a social network site.
Alibaba.com is a B-to-B, or business-to-business, website. It links up businesses around the world looking for suppliers. For instance, they link wholesalers to distributors around the world, from the UK to China to the US.
Alibaba refers to the adventurer in the Arabian Nights who sought treasure in exotic places - though these days it is less treasure and more Downton Abbey memorabilia.
Its online marketplace, Tao Bao, is similar to eBay. Its name also makes a reference to finding treasure. Its considerable presence in the online retail space has led to its use by some analysts as a proxy for Chinese retail price inflation. In fact, Tao Bao is so successful that eBay closed down its Chinese site.
An offshoot is called T-mall, where domestic and increasingly foreign companies like M&S can set up an online storefront to try and reach its half a billion Chinese customers, according to the company's calculations.
It also has an online payment service known as AliPay, which is like PayPal, and is valuable for an economy developing its financial services. Alibaba also recently bought a share in Sina Weibo, which is like China's Twitter.
By the end of this year, the online market in China is expected to surpass that of the US. By the end of the decade, Alibaba estimates that China will be larger than the US and Europe combined.
This is why there is such interest in China's new global companies.
Buying into the next Facebook
As with other Chinese companies that are coming of age, Alibaba is ready to go global and go public, which means that the company will soon list on a stock exchange and sell shares to the public.
The chance to buy into what is potentially the next Facebook unsurprisingly means there's a lot of interest. It is so high that analysts think that its initial public offering (IPO) could rival Facebook's $104bn (£67bn) offering.
If it does so before the end of 2015, then it will have the right to buy back more of the shares that Yahoo owns in the company (currently 20%) or allow Yahoo to sell it in the IPO.
This is something that Alibaba has been trying to do after buying back 20% of its shares from Yahoo last year. The company aims to retain more control from its major shareholders - who also include SoftBank, which owns 31.9% - as it moves into global markets.
Also, it's a bit unclear, but Alibaba may be subject to the strictures of the Chinese government. The government is concerned about the health of its stock market, so has largely halted the IPO process, leading to a backlog of about 1,000 firms at one stage waiting for permission. But it looks like it may be restarting.
What is clear is that Chinese policies affect overseas listings because the government tries to control the movement of capital across its borders.
Plus, because the Chinese stock market has been so volatile, the government has encouraged the best companies to have dual listings to make sure that they benefit Chinese investors. So a company such as white goods maker Haier would list domestically and overseas, say in Hong Kong or New York, London.
For private firms like Alibaba, these are regulatory hurdles that aren't faced by others in major markets. But it is likely to come under such scrutiny as it is one of the most high-profile Chinese companies.
The new Chinese multinationals
Unlike state-owned banks or national oil companies, Alibaba was started by a Chinese schoolteacher. And it is the latest private firm that is trying to establish itself as a global player.
Few Chinese firms have household brand recognition, however. After all, these firms only started "going global" in 2003, which was when the first commercial deal by a Chinese company overseas took place.
Besides, it is a challenge for companies from emerging economies to establish themselves among well-known brands like Apple or Google.
But if Alibaba does well in its IPO and breaks into overseas markets, it has the potential to be a globally competitive firm in the online space. That technologically-oriented industry is precisely where China would like to see its firms succeed.
Such success would be a tell-tale sign if "Made in China" continues to be viewed as low quality, or it becomes increasingly synonymous with producing the best in the world.
It would notch a mark in China's transition into a country that can produce high-tech services.
So, there's a lot riding on the success of this IPO.