Oracle shares hit as sales disappoint again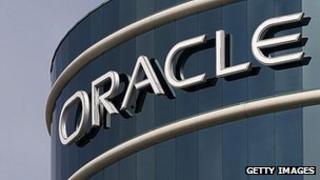 Oracle, the US computing giant, has been punished by investors for missing sales targets for the second quarter running.
Revenue from software sales and internet subscriptions rose 1% to $4bn (£2.58bn), but was below the average $4.2bn analysts had forecast.
Net profit rose 10% to $3.8bn for the fourth quarter to 31 May.
But this did not stop the share price plunging 8% in after-hours trading, after closing 2.6% down on the Nasdaq.
Revenue for the period was $10.9bn, below the $11.2bn that had been expected.
Oracle bought Sun Microsystems, the computer storage specialist, for $5.6bn in 2010.
Revenue from this integrated hardware division fell 13% to $849m in the quarter, but the drop was towards the lower end of company expectations.
The company blamed weak demand for its products in Asia and Latina America.
Catch-up
Oracle, led by combative chief executive Larry Ellison, is facing stiff competition in the enterprise software market from companies, such as Salesforce.com, Workday and NetSuite, offering remote storage or "cloud" services over the internet at lower prices.
Businesses and government agencies are beginning to prefer the flexibility of accessing programs and data that can be stored centrally via any networked machine.
Oracle, whose traditional business model involved licensing and servicing software installed locally on individual computers, has been playing catch-up in the nascent cloud computing market.
But the company said it had added more than 500 cloud computing customers in the quarter and was on track to generate revenues of $1bn a year.
Oracle also said it would double its quarterly dividend to 12 cents a share.