China stocks tumble on credit tightening fears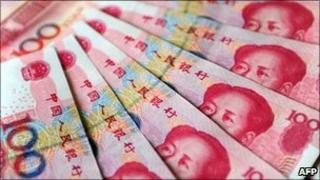 Chinese stock markets have fallen sharply as the country's central bank indicated its credit tightening policy would continue.
The Shanghai Composite SSE index fell 5.3% to 1,963.24 points, over 1,540 points below its 52-week high.
Traders reacted negatively to the People's Bank of China (PBOC) saying liquidity in the country was still "reasonable" and that the era of cheap cash was over.
Financial stocks fell more than 7%.
In Hong Kong, the Hang Seng index closed down 2.22%, while in Japan the Nikkei closed down 1.26%.
The news from China saw markets in the UK, Germany and France resume their slide downwards, although there were no signs of widespread panic selling.
Credit crunch
Recently, China's banks - mostly state-owned - had been charging each other some of the highest lending rates ever - over25% in some cases - enforcing a kind of state-sponsored credit crunch.
This is because PBOC had temporarily turned off the flow of cheap money in an attempt to impose more discipline on its banks and reduce their reliance on credit.
There were fears that the money markets could freeze up completely and put smaller lenders out of business as a result of the central bank's drastic move .
But inter-bank lending rates eased on Monday as PBOC made it clear big commercial banks should do a better job of managing their cash reserves and keep lending to smaller players.
PBOC did not signal it was turning the taps back on, however, leading traders to speculate that borrowing costs would remain relatively high for medium-sized banks and potentially dent profits.
Stimulus measures
After the global financial crisis in 2008-09, China unleashed a huge monetary stimulus in an attempt to boost economic growth, but became concerned that too much cheap cash had flooded its financial system.
Last week, data suggested Chinese manufacturing activity for June had fallen to a nine-month low.
And with the World Bank lowering its 2013 growth forecast for China from 8.4% to 7.7%, the markets expected the government to apply economic stimulus measures again.
But Monday's statement from China's central bank has temporarily scotched such expectations, hence the market reaction.