Suntory lowers listing price for key unit ahead of IPO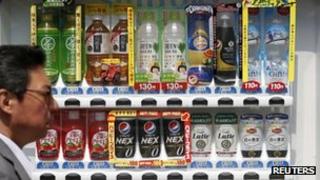 Japan's Suntory Holdings has said it is set to raise just 388bn yen ($4bn; £2.57bn) from the listing of its food and soft-drinks unit next week.
It had initially expected the initial public offering of Suntory Beverage and Food (BF) to attract as much as $4.7bn.
But analysts said the listing price was considered too expensive by investors, who were also cautious amid recent volatility on Japanese markets.
Still, the IPO is set to be the biggest in Asia so far this year.
Shares in Suntory BF are due to begin trading on the Tokyo Stock Exchange (TSE) on 3 July.
Ahead of the IPO, regulatory filings on Monday to the TSE showed a listing price of 3,100 yen per share - at the bottom end of an indicative range of 3,000-3,800 yen per share.
Last year Suntory BF made 992bn yen in sales, or more than half of Suntory Holding's group revenues.
The division has said that some of the proceeds from the IPO would be used to pay back bank loans.
"As for the rest, we plan to allocate it for strategic domestic and international investments aimed at growing the company," it said in May.
The listing "should help the firm's business expansion and boost its value by letting it make decisions quickly in the fast-changing global beverage market," it added.
Japanese beverage makers have aggressively pushed into new markets and in Asia, in order to offset declining sales in Japan.
Suntory previously said that its alcohol unit - known for its popular beer and whiskey range - would remain private. The company was established in 1899 and tightly controlled by the founding family.
Last year, the company said it would form a joint venture with Chinese brewer Tsingtao to expand in the world's biggest beer market.
It is also purchasing a majority stake in Indian food and drink maker Narang Group. In 2009, Suntory bought Orangina Schweppes Group for about $3.3bn.