Pensioner benefits face future uncertainty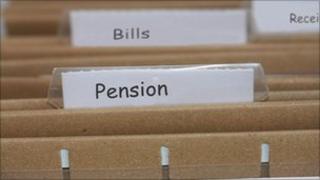 The future of pensioner benefits is looking increasingly likely to be a key battleground at the next general election.
Chancellor George Osborne told the BBC that affordability would need to be looked at beyond the election.
This comes after Labour's Ed Balls and Liberal Democrat leader Nick Clegg also addressed the subject.
But experts say that the state pension would offer the greatest savings, dwarfing the bill for other allowances.
Affordability
In the coalition agreement, the Conservatives and Lib Dems agreed to protect pensioner benefits, such as help with the cost of heating homes, until the general election.
Winter Fuel Payments, which are a £100 to £300 tax-free sum, are a universal benefit paid to pensioners each year.
But Speaking on BBC One's Andrew Marr Show, Mr Osborne did not commit to funding pensioner benefits beyond the 2015 election.
"All those pensioner benefits - not the basic state pension - all those other pensioner benefits, of course we have got to look at how we can afford them," he said.
"I don't want pensioners to be impoverished. I want pensioners to have a standard of living that reflects the fact they have worked hard and saved hard all their lives."
His comments follow that of the deputy prime minister who said that "welfare for the wealthy" must be tackled.
He said there was a problem when low-paid people were being asked to fund winter fuel allowances for those who have retired to warmer countries.
Shadow chancellor Ed Balls said wealthy pensioners would not be eligible for the Winter Fuel Payment under a Labour government.
"At a time when the public services that pensioners and others rely on are under strain, it can no longer be a priority to continue paying the winter fuel allowance to the wealthiest pensioners," he said.
Age change
Winter Fuel Payments cost the government about £2bn a year.
The free TV licence, worth £145.50 for a colour set, is provided for people aged 75 or over, and takes another £500,000 or so from the government coffers.
Meanwhile, the government faces an additional bill as those aged over 60 can get free NHS prescriptions.
However, these are dwarfed by the bill of around £60bn a year for the state pension.
Currently, the "triple lock" system means the state pension goes up each year in line with the higher of CPI inflation, average wages or 2.5%.
But Tom McPhail, of financial services company Hargreaves Lansdown, argued that this protection "looked doomed", and could revert to the state pension rising in line with earnings. Yet, were average earnings to leap up, this could potentially raise the bill in certain economic circumstances.
He said the only "meaningful" way to save money on pensions was to raise the state pension age sooner. An increase of a year in the state pension age could save the government £13bn, according to the National Institute of Economic and Social Research, and in theory the current plans could be accelerated.
In comparison with changes to the state pension, Mr McPhail described any changes to the Winter Fuel Payment as "token politics".
At present, those who qualify for a state pension currently start to receive payments in their 60s. The exact age is being equalised for men and women. It is rising to 66 for both sexes by 2020, then to 67 by 2028.
People can look at a state pension calculator to find the age at which they will receive it.
Pensions expert Ros Altmann said that it was a "worrying time" to be a UK pensioner, or to be approaching retirement years, as politicians would find the pensions budget to be "tempting to raid".