Sinopec agrees $1.5bn Angola oil field stake deal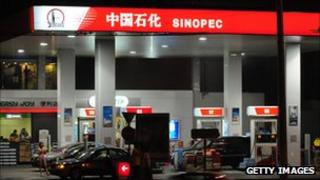 China Petrochemical Corporation, also known as Sinopec, has agreed a deal to buy US firm Marathon Oil Corporations's stake in an Angolan oil and gas field.
Under the terms of the deal, Sinpoec will pay $1.52bn (£985m) for Marathon's 10% stake in the field.
Sinopec had purchased a 5% stake in the field from France's Total in 2011.
Chinese firms have been buying energy sources across the globe in an attempt to meet rising domestic demand and feed its fast-growing economy.
Sinopec, Asia's biggest oil refiner, said that the Angolan block has proven and probable reserves of 533 million barrels of oil.
The deal is still subject to approval by Chinese and Angolan governments.
Securing energy supply
China's hunger for energy sources has also seen it snapping up other global deals.
Earlier this year, Sinopec agreed a $2.2bn deal with Devon Energy, giving it access to shale deposits in the US.
That deal will give Sinopec a one-third stake in five new shale projects, with the firms expecting to drill 125 wells this year.
Meanwhile PetroChina, another big player in the Chinese oil sector, also agreed a deal to gain further access to Canadian oil and gas reserves.
PetroChina which already owned a 60% stake in the Mackay River oil sands project, bought the remaining 40% share for $673m.
Late last year, China National Petroleum Corporation won approval for oil exploration and extraction in Afghanistan.