Why China's 'Black Monday' is a global concern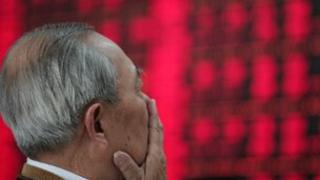 After what has been called China's "Black Monday", the stock market has continued its plunge, dropping more than 20% from its February peak and taking it into what is technically known as "bear market" territory.
The market's fall, though dramatic, won't necessarily trigger the central bank to change its mind about holding firm on issuing more cash to the banking system.
The market has been fairly volatile during the past decade. The Shanghai Composite index is down 70% from its all-time high in 2007 and down nearly 50% since 2009.
But if the markets start affecting economic growth, the calculus could change.
Domestic bond sales have dropped by more than 50% from last month, according to Bloomberg. They calculate that issuance has dropped to 175bn yuan in June, which is the lowest in 17 months.
Now, some of that increase in debt is what the Chinese government wants to control.
Rising debt
Of particular concern are the loans issued by "trust" companies. They issue wealth management products which offer savers a higher return than the official deposit rate of 3%. But, these products are sold off-balance sheet and are higher risk. That risk and what is really being sold isn't always clear to the buyer.
This is why the shadow banking sector is of such concern.
As I mentioned in my last post, debt has risen rapidly alongside total social financing - which is a measure of credit that includes bonds as well as those trust loans.
This measure has surged by 50% from a year ago to 9.1 trillion yuan, which is more than double what China plans to spend on roads by 2030.
Even though the Chinese market has plummeted, it is a fairly closed market. Only investors with permission to invest, such as those with a QFII (Qualified Financial Institutional Investors) licence, can buy A-shares on the main market.
Nevertheless, the wider impact is felt through shaking the confidence of already-jittery markets, eyeing the looming end of the era of cheap cash.
Global resonance
More than that, for those in the rest of the world, if Chinese constraints on lending end up restricting economic growth, then the global economy suffers from the slowing of one of its twin engines. This at a time when the other one - the US - is just about getting back on its feet.
Plus, China's slowdown has already dragged commodity prices lower. Copper has hit a three-year low, worsening its decline. Commodity companies listed around the world, and mainly in the UK, will continue to feel the pain.
Mining companies comprise about 8% of the main UK stock market, the FTSE 100. Mining stocks have fallen by more than 20% since the start of the year - a steeper fall than the main index, which itself is down more than 10% from its May peak.
China's cash squeeze has perhaps already hit British pockets, including the pensions that are affected by the stock market.