Carpetright's UK sales rise but trading set to stay tough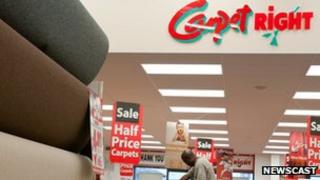 UK floorings chain Carpetright has reported an "encouraging" rise in UK sales, but asset writedowns pushed the firm into an annual loss.
The retailer reported a pre-tax loss of £5.1m for the year to 27 April after taking a £14.8m hit from writedowns on properties and leases.
Like-for-like sales in the UK rose 2.2%, but that was offset by a hefty slump in sales in Europe.
Carpetright said trading conditions were expected to "remain challenging".
'Self-help' strategy
The company noted that recent housing market surveys have suggested the property sector is beginning to recover, which could boost demand for its products
However, Carpetright said it would be "premature to call a wider recovery in the economy".
Chief executive Darren Shapland said: "The success of our self-help activities in improving group performance during the period was particularly encouraging, demonstrating that a focus on factors within our control can yield good results."
A former chief financial officer and group development director at Sainsbury's, Mr Shapland replaced Lord Harris of Peckham in May last year.
He has overseen changes including store refurbishments, new products and improvements to digital marketing.
The company has revamped two-fifths of its 478 stores across the UK, and says sales at these stores have risen by more than 10%.
Revenue for the year fell to £457.6m from £471.5m. Like-for-like sales in Europe contracted by 11% with Netherlands and Ireland the hardest hit.
Excluding the one-off asset writedowns, underlying profits rose to £9.7m from £4m a year earlier.