Rolls-Royce 'regrets' Qantas A380 engine explosion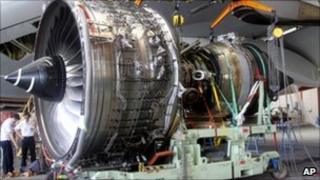 Rolls-Royce has said that it "regrets" the mid-air failure of one of its Trent 900 engines which happened on a Qantas A380 plane in November 2010.
The explosion in the engine had forced an emergency landing of the plane.
Rolls-Royce issued the statement after Australia's transport safety regulator blamed the failure on a fatigue crack in an oil feed pipe in the engine.
The regulator said the pipe was made with a thin wall section and "did not comply" with the design specifications.
"The thin wall substantially increased the likelihood of fatigue cracking," the Australian Transport Safety Bureau (ATSB) said in its final report on the incident.
Rolls-Royce said that it supported the findings of the ATSB.
It said the pipe was "one of a small number which had been incorrectly manufactured as a result of a measurement error during a precision drilling procedure", but added that it had since taken measures to prevent such incidents from happening.
"This was a serious and rare event which we very much regret," said Colin Smith, director of engineering and technology at Rolls-Royce.
"At Rolls-Royce we continually strive to meet the high standards of safety, quality and reliability that our customers and their passengers are entitled to expect. On this occasion we clearly fell short.
"We support the ATSB's conclusions and, as the report notes, have already applied the lessons learned throughout our engineering, manufacturing and quality assurance procedures to prevent this type of event from happening again," he added.
The incident resulted in Qantas grounding its entire fleet of A380 planes temporarily.
Rolls-Royce later agreed to pay 95m Australian dollars ($88m; £58m) as compensation to the Australian carrier.