Made in the USA: Can China save America's middle class?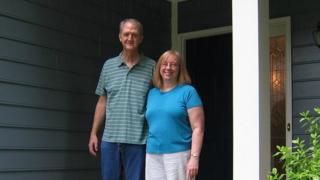 The middle class were once the engine of America but since the recession, many are struggling.
Judy and Richard Gassman live in the well-to-do neighbourhood Adams Farm, in Greensboro, North Carolina. Richard, an electrical engineer with a masters degree lost a well paid job two years ago. He hasn't been able to find work since.
"We're in debt right now and we're going to be in debt until I find a job," explains Richard.
"I'm not paying health insurance. Don't have it. Lost it when I lost my job."
And that's not all that's gone. Sifting through their possessions, they're preparing to leave the house they've called home for 17 years. They're being evicted.
"You know I never thought I'd lose my home in this way," says Judy.
"We grew up very family orientated so it's bittersweet."
Richard recently had a second interview for a job but hasn't heard anything.
"It's been long enough that I'm beginning to wonder."
The downward spiral in the Gassman's finances has left them in a precarious position. Their situation comes at a time of growing concern about income inequality and its effect on America's shrinking middle class.
Winner takes all
For much of the last century, the US was built on the idea that economic gains should be widely shared. America is supposed to be the land of opportunity. But Alan Krueger, chairman of President Obama's Council of Economic Advisors, believes things started to change in the 1980s.
"We are increasingly becoming a winner-take-all economy," Mr Krueger said in a speech recently.
"Over recent decades, technological change, globalisation and an erosion of the institutions and practices that support shared prosperity in the US have put the middle class under increasing stress."
For the past three decades, the wealthiest Americans have seen their incomes rise much faster than those in the middle. This change is not unique to the US. The picture is similar in the UK, France and Sweden but it is most dramatic in the US.
With income inequality rising, there has been a renewed push to resuscitate America's declining manufacturing industry. The United States lost more than five million manufacturing jobs between 2000 and 2010. Put another way, that amounts to nearly a third of manufacturing employment.
President Obama has pinned a lot of hope on the return of manufacturing to help rebuild America's middle class. After years of jobs being shipped overseas, there are signs that some are coming back.
Factory return
Chinese computer maker Lenovo recently celebrated the opening of its first US manufacturing plant in Whitsett, North Carolina. Other companies like Motorola and Apple have also announced plans to manufacture in the US.
At the opening ceremony, the words of Tom Looney, vice-president and general manager for Lenovo North America, were greeted with applause:
"We're here to celebrate the return of PC manufacturing back to the US," he said. "And it's starting right here in the great state of North Carolina."
As wages went up in China, they've fallen here. Lenovo officials say it's still cheaper to make computers overseas but this way they can be closer to their American customers.
Margo Crisp couldn't be happier. She's one of 115 newly hired workers.
"My plant closed down in 2009 and I was excited when somebody told me about this," she says.
She hasn't had a job in manufacturing since the car factory she worked at shut down several years ago.
Losing ground
But the jobs that workers like Margo are taking are different from those of the past.
Along the production line employees put together one of Lenovo's hybrid computers, a mix of a tablet and a laptop nicknamed the Twist. Yet despite the posters on the wall proclaiming "Made in America", many of the parts are built overseas.
There are other reasons why the manufacturing jobs that are returning aren't the same. The reality is there aren't a lot of middle income jobs for medium-to-low-skilled workers.
John Crawford is the president of his local union who has worked in manufacturing for nearly two decades. He's witnessed first hand the impact of global trade on American jobs. His fear today is that temporary, low paying jobs are becoming the norm.
"Temp agencies have been booming here lately and if you look at these big corporations, they hire through a temp agency now. You don't usually go through the company to get a job. That's the difference between the generations."
Temporary jobs don't come with benefits such as healthcare or pensions. And often they don't pay enough to enable saving for things like house down-payments or children's education. In short, they don't provide many of the essential qualities of the American middle class experience.
So it's no surprise that nearly three-in-five middle class Americans say they are concerned about falling out of their economic class, according to a recent poll.
Back at the Lenovo factory, plant manager Jeffrey Benes patrols the assembly line.
With customer orders rolling in, there's no shortage of work.
"For the first six months of this year we've had plenty of overtime."
The staff here are proud of what they're making, knowing that the products that leave here will bear an American flag. This is after all a country which still believes in the power of the middle class dream, even if in reality it's increasingly out of reach.