Royal Mail pay rise rejected by CWU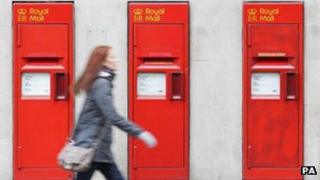 The union that represents postal workers has rejected a proposed 8.6% pay increase from Royal Mail, amid privatisation plans.
Royal Mail has offered 125,000 workers the three-year pay rise, as well as bonuses and other changes to conditions.
But the Communication Workers Union (CWU) described the offer as "misleading and unacceptable".
The government is planning to sell the operator to the private sector.
Business Secretary Vince Cable has spoken of a possible share sale before the end of the year.
In its latest offer, Royal Mail said any pay deal made now "would not be affected by any change in ownership of the company".
'Sweetener'
It also said that it would ensure a minimum of 10% of shares would be set aside for employees ahead of any sale, and called for a "new model" of working with the CWU - the main union body.
"We have already built a stronger Royal Mail together, through closer cooperation and trust in recent years," said Moya Green, Royal Mail chief executive.
"We are now offering a new long-term agreement with the CWU and our employees.
"This is a good deal - good for Royal Mail and good for our people. We are asking the CWU and our people to accept this new agreement.
But Dave Ward, CWU deputy general secretary, said the pay-rise on offer was merely "a sweetener".
"Postal workers want more security; what's on offer is less. With privatisation looming, the protections Royal Mail have put on offer are not worth the paper they're written on," he said.
"The pay rise is only there as a sweetener to swallow some very bitter pills on damaging changes to pensions, and a raft of workplace uncertainty.
"The deal that they've spun in their press release is not the real deal. Postal workers will know that."
He warned that industrial conflict was "inevitable" if the union did not receive assurances it wanted.
The Royal Mail proposal also states that an "industrial Stability mechanism will be developed as part of the agreement". This is thought to amount to a no strike deal.
A CWU spokesperson said the union would never sign up to an agreement that took away the right of its members to undertake legitimate industrial action.