Uniqlo owner Fast Retailing sees Japan sales jump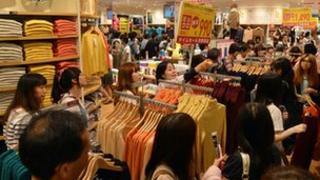 Fast Retailing, owner of the Uniqlo clothing brand, has said same-store sales in Japan climbed 20.5% in June from a year earlier, indicating that consumers are more willing to spend.
Fast Retailing, the biggest retailer in Asia, said good weather and strong demand for summer items lifted sales.
The company is seen as a key indicator of consumer sentiment.
Total sales, including online trading, were up 24.6% from a year earlier, the company said.
Japan's consumer confidence has improved in recent months, with the government launching huge stimulus measures to spur its long-stalled economy.
For more than a decade Japan's economy has been mired in deflation, or falling prices, which analysts say tends to discourage consumer spending.
Uniqlo makes most of its earnings from stores in Japan.