Debit cards 'first choice for online shopping'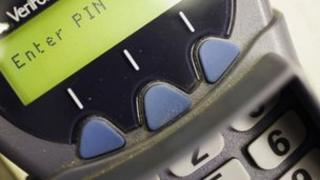 Debit card spending by internet shoppers overtook the use of credit cards online for the first time last year, industry figures show.
Online spending using a debit card hit £35bn compared with £34bn on credit cards, the UK Cards Association said.
Shoppers are also using debit cards more frequently in stores.
Each debit card holder made an average of 205 transactions with their cards last year, the data shows, an increase of 10 on the previous year.
Some 91% of the UK adult population have a debit card and 61% have a credit card.
Use of these cards has increased as more shops have accepted them, and as more stores use devices such as chip-and-pin machines.
The association predicts that spending on cards in the next 10 years will nearly double from £477bn to £840bn.
Consumer protection
UK consumers are among the most likely to use internet shopping across the developed world.
Figures from the Organisation for Economic Co-operation and Development (OECD) last year suggested that about two-thirds of UK adults ordered or bought goods or services on the internet.
This was a bigger proportion than any other state among the OECD's members.
The move to debit cards may suggest that people are becoming more comfortable shopping online - and are happy to use the card for their regular bank account.
However, it might also be the result of higher surcharges when using a credit card for many online purchases, rather than a debit card.
There is generally a little more protection with a credit card if, for example, a shopper has bought something, but the business has then ceased trading.
If the item cost more than £100, a shopper should be able to claim from the credit card issuer under section 75 of the Consumer Credit Act 1974.
If the goods were purchased on a Visa or Mastercard debit card, then they may be able to claim under the Chargeback procedure.
Under this procedure there is no minimum limit on the price paid for the goods, but generally a claim needs to be registered within 120 days of the date the goods were bought or a deposit paid.
Regulator's warning
Get Safe Online, an organisation that promotes safe internet use, suggests that internet shoppers do some homework on a retailer before buying online.
Other safety tips include:
Checking the website is secure before entering payment details. One way is by checking for a padlock sign in the browser window frame
Safeguarding passwords that might be needed for extra verification
Always logging out of a website after making a purchase, rather than just shutting it down
Check statements and keep receipts
Last year, businesses were warned by the regulator to clean up their act when selling products online.
In a study of several websites, the Office of Fair Trading (OFT) found examples of unreasonable restrictions on refunds and compulsory charges being added without prior warning at the online checkout.
Distance sales rules state that goods should be delivered within 30 days and that shoppers should be given a seven-day cooling-off period in which they can cancel an order and get a full refund. This period is longer for financial products.