Mobile phone insurance complaints firm fined by FCA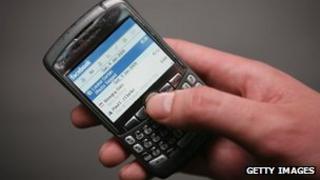 A firm which deals with complaints for Phones 4U has been fined £2.8m for wide-ranging failures in dealing with gripes about mobile insurance policies.
Policy Administration Services Limited (PAS) did not investigate mis-selling complaints fully, the Financial Conduct Authority (FCA) said.
Some were rejected simply because a customer had signed a direct debit form.
PAS has reviewed 7,099 complaints and paid compensation to 1,438 customers.
Apology
The fine relates to poor complaints handling between June 2009 and September 2011. The regulator said that PAS had failed to put right the root causes of mis-selling.
PAS, an insurance intermediary, was responsible for customer relations, claims and complaints about mobile phone insurance policies sold by Phones 4U.
Underlying all of the shortcomings was PAS's failure to record complaints, the FCA said. This meant it was unable to treat customers fairly.
"In any business things can go wrong. Where it does it is in the interests of both consumers and firms to put it right. Proper complaints handling is essential to ensure customers are treated fairly," said Tracey McDermott, of the FCA.
"PAS had wide ranging failures across its complaints handling processes - it failed to investigate complaints properly or to keep accurate records. This is simply not good enough - it does not meet our requirements and does not meet the needs of customers."
PAS has apologised for getting things wrong, but said that it had made improvements.
"We engaged an independent third party to undertake a comprehensive review, and our processes were considerably improved in 2011 to ensure such failings do not occur again," the company said in a statement.
"We have been open and co-operative with the FCA to fully address the issues raised by its investigation, and we continue to work with the FCA to promote high standards of regulatory conduct within the industry."
Warning
The fine comes the week after the FCA said that it had found widespread poor practice in mobile insurance policies.
Making a successful insurance claim for a lost mobile phone can be virtually impossible, the regulator said.
In total there are more than 10 million such policies in existence in the UK, making it one of the most popular insurance products.
Members of the industry have promised to make changes to their policies, to be clearer about when and where consumers are covered.
Richard Lloyd, executive director of consumer group Which?, said that any consumers who thought their complaint was not handled correctly should first resubmit their complaint and then take it to the Financial Ombudsman Service if they were not happy with the response.