Nestle and Danone to lower baby milk prices in China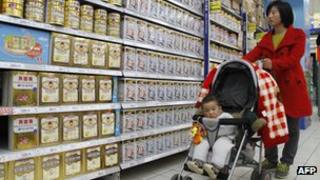 Food giants Nestle and Danone have said they will cut prices of some of their infant milk formula products in China.
The move comes a day after China launched a probe into alleged price fixing by foreign infant milk makers.
Demand for foreign brands has surged in China after tainted milk scandals resulted in distrust of local rivals.
Nestle's unit, Wyeth Nutrition, will slash prices by as much as 20%. Danone said it was co-operating with the probe and was preparing a price-cut proposal.
Nestle also added that it would not raise prices of any new products over the next year.
"Wyeth Nutrition has always respected and been willing to abide by China's laws and regulations, and is actively cooperating with the anti-monopoly investigation into the company," the firm was quoted as saying by the AFP news agency.
According to some estimates, foreign brands now account for about half of all infant milk sales in China.
Nestle, Danone, Mead Johnson Nutrition and Abbott Laboratories are among the firms that are being investigated by the China's National Development and Reform Commission.
Tainted history
Over the past few years China has faced a series of milk-related scandals.
In 2008, six infants died of severe kidney damage and an estimated 300,000 babies suffered from kidney stones after drinking tainted baby formula.
The formula, from several major Chinese dairy companies, was tested and found to contain melamine, an additive that falsely boosts the protein levels in milk.
In December 2011 and July 2012, two Chinese companies recalled baby formula containing high amounts of aflatoxin, a carcinogen produced by fungus in cows' feed.
Last year, another company issued a separate recall after "unusually high" levels of mercury were found in its main line of infant milk powder.
That has led to Chinese consumers looking to overseas brands, triggering a global surge in demand for the products.
Analysts said that despite the probe against them foreign brands were likely to remain popular with the consumers.
"It is hard to believe that domestic challengers are going to take over from Danone and Nestle in the next couple of years," said Jon Cox, an analyst with Kepler Cheuvreux.
"That is some time away, because the issue is that consumers don't trust the product rather than the absence of local competitors." he added.
The surge in Chinese demand has also resulted in various countries limiting the amount of infant milk purchases.
Hong Kong, which was the first one to put a ceiling, has barred customers from purchasing more than two cans of formula a day. Those caught breaking the rules face up to two years in prison and a $64,500 fine.
Countries outside Asia have also had to take similar measures, with retailers in Australia and the UK limiting the number of cans of formula that can be sold to a customer within a single day.