BA's first A380 superjumbo arrives at Heathrow airport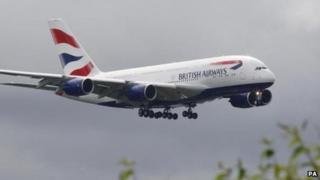 British Airways has become the first airline in the UK to take delivery of an Airbus A380 superjumbo.
The plane landed at Heathrow airport this morning, and is the first of 12 superjumbos ordered by BA. The planes will carry 469 passengers each.
The A380's arrival follows the delivery last week of two Boeing Dreamliner aircraft. BA is currently spending £10bn to upgrade its long-haul fleet.
The first commercial flights are due to begin in autumn 2013.
The Airbus A380 is the world's largest passenger plane. BA has orders for 12 A380s and 42 Dreamliners to be delivered over the next 10 years. It also has bought six new Boeing 777-300ERs and 18 Airbus A350 aircraft.
Singapore Airlines was the first carrier to operate an A380, with its first flight taking place in October 2007. Virgin Atlantic is due to take the first of the six A380s it has ordered in 2018.
Problems emerged with the A380 in 2012, when hairline cracks appeared on some of the brackets used to link the wing to the plane. Each A380 has 4,000 of these brackets and the problem cost Airbus more than 250m euros in repair and service costs.