Oil prices stable after Egypt coup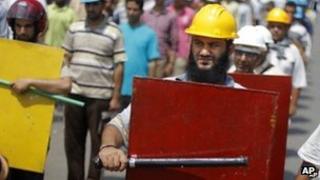 Oil prices dipped back slightly on Thursday after Egypt's army ousted President Mohammed Morsi, having risen 3%-5% over the previous two days.
US light sweet crude fell two cents to below $101 a barrel, and Brent crude dropped 36 cents to $105.40.
But the gap between the US and European oil benchmarks continued to narrow.
The price of US crude had hit a 14-month high on Wednesday on concerns over political turmoil in Egypt, as well as rising US oil demand.
Suez Canal
Traders have been worried that the volatile political situation in Egypt could interrupt oil flows through the Suez Canal and the wider Middle East, which account for about 25% of the world's oil output.
The Egyptian president, Mohammed Morsi, has been removed by the army and placed under house arrest.
The Islamist leader has faced four days of vast protests against his rule, as well as large demonstrations in his support from followers of his Muslim Brotherhood movement.
The army has promised new elections, but fears remain that the dispute between Mr Morsi's opponents and supporters could descend into serious violence.
The Suez Canal sees just over 2% of world oil needs pass through it daily.
The Suez Canal Authority, which operates the waterway, said it "has all the authorities needed for running the Canal without being limited by the laws and the systems of the [Egyptian] government".
Narrowing spread
On Wednesday, the US Energy Department said that weekly US crude supplies fell by 10.3 million barrels.
That was the biggest fall in 13 years and more than three times the drop that had been expected.
It was partly due to a temporary reduction in supplies from Canada as well as increased demand from a refinery in Indiana that has just restarted work.
US crude has traded at a significantly cheaper price than the European Brent benchmark - typically $15-$25 per barrel - since the start of 2011.
In large part this has been due to a renewed US oil boom, as technological advances such as fracking have made it possible to exploit previously unrecoverable shale oil reserves.
However, the price "spread" between WTI and Brent has almost disappeared over the last three months, due to rising US demand, and new pipelines and rail freight capacity enabling overseas exports of US shale oil.