Rolls-Royce defends claims it concealed engine defects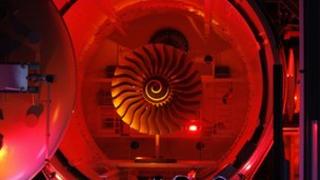 Rolls-Royce has denied claims made by two former employees in a US lawsuit that it "cut corners on quality control requirements" and "lied to" customers.
The pair also alleged that the firm "routinely used defective parts designated as 'scrap only'".
The two are challenging a court order that prevents them from releasing information which they claim reveals details of what the firm concealed.
Rolls-Royce has defended itself and said the lawsuit is "without merit".
According to reports in the Financial Times and the Daily Telegraph, the lawsuit filed by former employees Thomas McArtor and Keith Ramsey alleges that the engine maker concealed internal records of defects in engines sold to clients.
The employees claims that the company collated those alleged defects into a "secret set of books".
Rolls-Royce has denied these allegations saying that a US district Judge, William T Lawrence, had already thrown out two of the four claims before the "discovery" phase of the litigation had been entered.
"Judge Lawrence did not find that Rolls-Royce engaged in any wrongdoing, failed to follow its quality system, concealed anything from the US government or even that a jury is entitled to hear the allegations," the firm said.
"Rolls-Royce categorically rejects the other claims and will defend itself vigorously.
"Any and all facts of the case will be presented in court, where we are confident it will be found the lawsuit is without merit," it added.