Can you play tennis on a budget?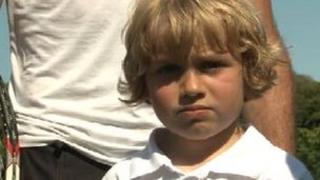 Charlie Lesser's favourite tennis players are Andy Murray and Rafa Nadal. He is already hitting forehands quite like them - and he is only six.
So with a tennis-mad son, parents Simon and Rebecca might worry that the costs of playing could pile up.
But, as a family, they sign up to a scheme in Dorset that allows them to get on court all year round for £30.
"It is really accessible here. It means we can come to play here as much or as little as we want," says Rebecca, a 37-year-old clinical psychologist.
Charlie says he does not ask for the most expensive equipment, but maybe he will in time.
"There is always pressure," says Rebecca. "But at the moment he has got his racquet and that is all he needs."
Play in the park
For two weeks each year, Wimbledon serves up a feast of big hitters, big personalities and big winners' cheques.
But for the other 50 weeks, the sport's authorities in the UK are trying to promote the concept of "anyone for tennis".
The Dorset scheme, called Tennis in the Park, is one programme aimed at dispelling the image of tennis as elitist.
Others are in place up and down the country, aimed at allowing people to get out to play even if their household budget is squeezed.
In Sheffield, the Lawn Tennis Association (LTA) is running Mini Tennis sessions, which cost £5 for a family of four.
There are cardio and coaching sessions in Manchester that cost £1.50 for children and £3 for adults, so people can get fit with a racquet in their hands.
Across the South East of England, people who have never played before can get involved in beginner games every weekend for £3 per family. They get a free tube of tennis balls on their first visit.
Other LTA projects are in place across England, Scotland and Wales.
Saving tips
It is not just access to the courts that can cost money.
However, Simon Johnson, operations manager for the LTA in the South West region, says that there are other moneysaving tips to keep costs down, especially for those playing for the first time.
They include:
Looking out for discounted racquets and balls at local supermarkets
Signing up to group coaching, rather than individual sessions, to spread the cost
Finding free or cheap park courts, which are listed on the LTA All Play Tennis website
Borrowing a racquet and hiring some tennis balls
"It is not just for the rich and famous. It is one of those sports that mum and dad can play with their kids," he says.
Tennis is one sport hoping to attract new players and greater participation as a result of the success of the London 2012 Olympics.
Sport England's figures, compiled twice a year, showed that 4,000 more people play tennis once a week than did so a year ago.
That put it sixth on the participation list in the Active People Survey, with 424,300 people playing. Swimming is top of the chart.
However, this comes after a few years in which participation levels fell. Sport England withheld some funding from the tennis authorities last December, saying it would only release the money if participation increased.
Involved in coaching
Southbourne in Dorset is among the tennis clubs hoping to benefit from a renewed interest in the game after Wimbledon.
Chairman Keith Mitchell says that all that is needed to get started is a pair of trainers.
His club is involved in coaching for schoolchildren, players who have learning difficulties, and wheelchair tennis.
About 150 adults have signed up to the club's membership for £3.75 a week, and 120 children are on the club's books too.
They hope that finding the next young star to break into the big time does not have to break the bank too.