Bank of England new governor Carney makes fans in first week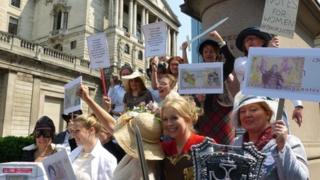 At the end of his first week at the Bank of England, Mark Carney appears to have impressed the markets, economists, and even a group of determined female protesters.
Since the new governor got his feet under the desk on Monday morning, the FTSE 100 has risen around 6%.
Economists welcomed the moves towards "forward guidance", of which we got a taste on Thursday.
The hint that base rates are unlikely to rise soon sent shares soaring.
At the same time the pound took a pounding, dropping below $1.50 on Friday.
"But that was all part of the intention," said Vicky Redwood, chief UK economist at Capital Economics. Weaker sterling makes the UK's exports more competitive, and so boosts the economy.
"It was a good week for Mark Carney, and he hit the ground running," she said.
'Smart guy'
The new governor also managed to win over one group of women who were determined to go into battle with him.
Faced with the news that no women would be featured on the next issue of pound notes, they had collected 33,000 signatures, demanding that the Bank reconsider.
By Wednesday, Governor Carney had not only announced there would be a development on that front before the end of July, but he had also agreed that the Bank would meet the protestors.
The women had been asking for a meeting with the Bank since April, but had received no reply.
Nevertheless they went ahead with a protest on Friday outside the Bank of England.
But it was clear the wind had already been taken out of their sails.
"He has not yet confirmed that there definitely will be a woman on a banknote," said Caroline Criado-Perez, who organised the petition through Change.org.
"But there's definitely a shift in rhetoric, so that's really positive," she told the BBC.
"He is clearly a smart guy," she admitted.
Impact
Even before Mr Carney had arrived at the Bank of England, his looks were being compared to George Clooney's.
Rarely has a man been of such interest to the media that even his wife's views on tea-bags merited a few column inches.
Then there was the revelation that he had his feet under the desk by 7am on his first day in the office.
That, along with the news that he got there by way of the Underground, helped endear him to London's early-rising commuters.
Especially the detail of how he, like every city worker before him, got a little lost in the maze of exits from Bank tube station.
But Vicky Redwood thinks his good week may largely have been a case of serendipity.
"The economic news this week has been good," she said, referring to positive reports from purchasing managers, an upbeat house price survey from the Halifax, and good news on US jobs.
"However, he persuaded the committee to take the first step on forward guidance, and that's an achievement. You can see his impact on the markets," she said.
Pain for savers
One group that will not have warmed to Mr Carney this week is savers.
The news that base rates will stay at 0.5% for some time to come will only depress returns for them - and pensioners.
Average interest rates on a cash ISA have already fallen from 2.44% a year ago to 1.44% now, according to the website Moneyfacts.
That's less than half the rate of inflation.
"With the base rate expected to continue to remain at a record low, it is only going to lengthen savers' pain," said Charlotte Nelson from Moneyfacts.
So Mr Carney may not have saved the economy in his first week.
But he has won some admirers.